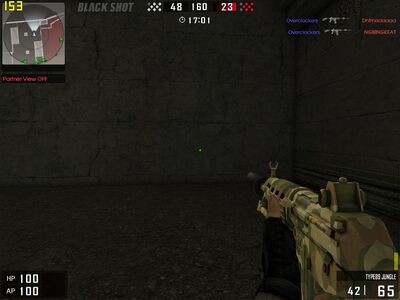 Description
Edit
Japanese modified version of the M16.It has a high fire rate,but the price of the rifle is comparably expensive.
Statistics
Edit
Damage: 4.3
Fire Rate: 9.0
Weight: 3.4
Magazine: 30
Accuracy: 8.9
The type 89 is a good close to medium range weapon.Its high fire rate allows you to pump more shots into the enemy quickly and is thus good in close-quarter maps like "The Hunting" or "Rooftop".
Purchasing
Edit
The basic Type 89 can be bought for:
The Type 89 with jungle camo can be prchased for:
70GS(Garena Shells)for 1 day
210GS for 7 days
420GS for 30 days
Ad blocker interference detected!
Wikia is a free-to-use site that makes money from advertising. We have a modified experience for viewers using ad blockers

Wikia is not accessible if you've made further modifications. Remove the custom ad blocker rule(s) and the page will load as expected.