Description
Edit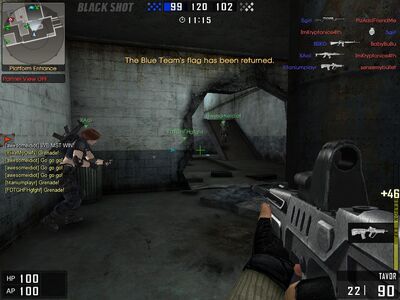 Future standard firearm of the Israeli Defense Forces.This weapon is small,but highly accurate and powerfully effective in urban warfare.
Statistics
Edit
Damage; 4.0
Fire Rate: 9.0
Weight: 4.6
Magazine: 30
Accuracy: 6.5
The Tavor is an average assault rifle.It can perform well due to its high fire rate and good damage but the main weakness of this gun is the accuracy,which compared to guns like AK-47 or Type 89 is pretty low.It has zoom capabilities that may make up for the loss in accuracy.It is also the most expensive Assault Rifle which makes it unpopular among the community.
Purchasing
Edit
The Tavor can be bought for:
2800BP for 1 hour
8100BP for 3 hours
25,700BP for 10 hours
57,000BP for 30 hours
Ad blocker interference detected!
Wikia is a free-to-use site that makes money from advertising. We have a modified experience for viewers using ad blockers

Wikia is not accessible if you've made further modifications. Remove the custom ad blocker rule(s) and the page will load as expected.