Description
Edit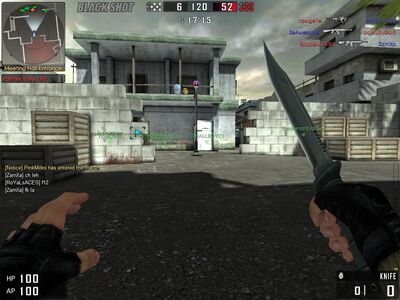 "The most reliable weapon in all of the game." Edit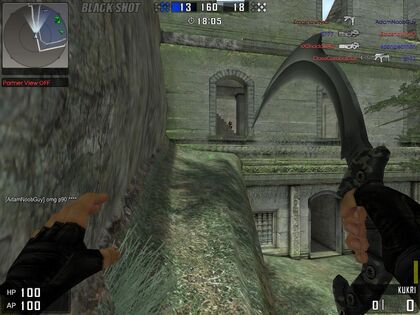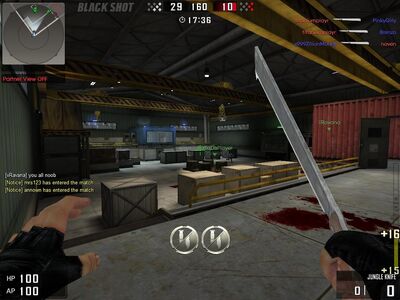 The knife is the basic melee weapon in Blackshot. It is always available to all players by default and cannot be dropped, though players are able to purchase & equip one out of the many different types of knives available.
Overview
Edit
For every player, the knife is a melee weapon located in the 3rd weapon slot. When held, it provides the fastest movement speed as compared to holding a weapon. Furthermore, players are able to increase their movement speed further by using the Speed Kit.
The default knife has a fast, low-damage primary attack which can kill most opponents with two stabs (usually one if a player aims for the head). It is possible to one-hit kill as well when equipped with other purchasable melee weapons such as the Meat Hammer or Kukri Knife.
Ruyi Stick(not available for the time period)
Chainsaw
Hatchet
Meat Hammer
Kukri Knife stick
Jungle Knife
Kukri Knife
SMF Knife
Kodachi
Katana
Candy Cane
Azrael Blade
Black Parang
Chakram
Cleaver
Crowbar
Dive Knife
Kris
NX1 Swiftblade
Party Horn
Police Baton
Sai stick
Shamshir
Silver Parang
Wolf Fang
Ad blocker interference detected!
Wikia is a free-to-use site that makes money from advertising. We have a modified experience for viewers using ad blockers

Wikia is not accessible if you've made further modifications. Remove the custom ad blocker rule(s) and the page will load as expected.