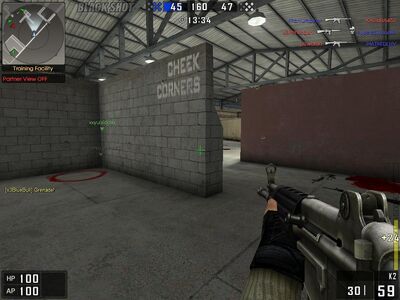 Description
Edit
By combining the best of the AK-47 and the M16 ,the K2 is able to feature power and accuracy in short to mid range combat.However,heavy recoil compromises its long distance accuracy.
Statistics
Edit
Damage: 4.1
Fire Rate: 9.0
Weight: 4.2
Magazine: 30
Accuracy: 7.4
The K2 is an underused weapon as it has a bit of heavy recoil,but can be controlled easily.Unlike what the description states,the K2 can be used for long range fights but is most effective in medium range.
Purchasing
Edit
The basic K2 can be bought for:
1600BP for 1 hour
4600BP for 3 hours
14,700BP for 10 hours
41,700BP for 30 hours
The K2 with Jungle camo can be purchased for:
60GS(Garena Shells)for 1 day
180GS for 7 days
360GS for 30 days
Ad blocker interference detected!
Wikia is a free-to-use site that makes money from advertising. We have a modified experience for viewers using ad blockers

Wikia is not accessible if you've made further modifications. Remove the custom ad blocker rule(s) and the page will load as expected.