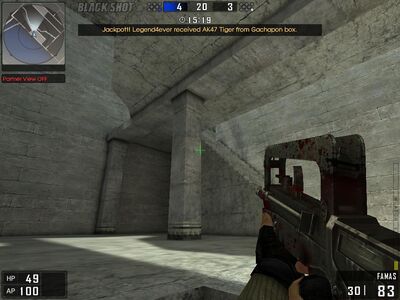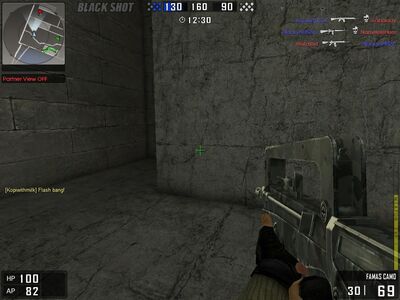 Description
Edit
This modern assault rifle uses a bullpup configuration.It has a high fire rate,but also maintains a level of accuracy in extreme conditions.
Statistics
Edit
Damage: 3.9
Fire Rate: 9.0
Weight: 4.8
Magazine: 30
Accuracy: 6.5
The Famas is a versatile weapon.The Famas's high fire rate helps it in close range fights and its low recoil lets you eliminate targets at a distance.There isn't a main weakness to this gun,although it isn't widely used.Try this gun out if you have the BP and do not know what to use.
Purchasing
Edit
The basic Famas can be bought for:
1800BP for 1 hour
5400BP for 3 hours
18,000BP for 10 hours
54,000BP for 30 hours
The Famas Camo can only be recieved through the Gachapon Box C
Price of 1 try in Box C: 120GS(Garena Shells)
Ad blocker interference detected!
Wikia is a free-to-use site that makes money from advertising. We have a modified experience for viewers using ad blockers

Wikia is not accessible if you've made further modifications. Remove the custom ad blocker rule(s) and the page will load as expected.