Description
Edit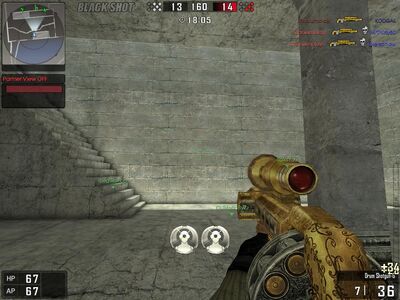 Holy Shotgun modified weapon.Shape has been changed from cross to line shape.Similar Specification but decreased damage.
Statistics
Edit
Damage; 9.9
Fire Rate: 1.0
Weight: 3.6
Magazine: 12
Accuracy: 4.4
The Drum Shotgun-G is most probably the worst weapon to use in the entire game.Its low damage usually requires a follow-up shot but its low fire rate makes it almost impossible to kill a person.It also has a very low accuracy and even in close quarters it does not get 1-hit kills.The Drum Shotgun-G is a weapon you should only use if you are not afraid to have a negative kill-death ratio.
Purchasing
Edit
The Drum Shotgun-G can be purchased for:
1600BP for 1 hour
4600BP for 3 hours
14,700BP for 10 hours
41,700BP for 30 hours
Ad blocker interference detected!
Wikia is a free-to-use site that makes money from advertising. We have a modified experience for viewers using ad blockers

Wikia is not accessible if you've made further modifications. Remove the custom ad blocker rule(s) and the page will load as expected.